Templating Preparation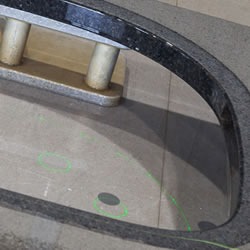 When the customer is furnishing any sinks or other kitchenware, the customer must be home when we need access to the home to be able to make a template for the area that you are wanting a granite slab for. We at Ottawa Diamond Granite will then take the template back to the store to create the perfect countertop for you. When completed, we will bring the finished product back to your residence with a team of workers that will complete the installation. We are only able to process the order once we have in hand the sink and other kitchen wares in our shop so we can create a countertop custom for your kitchen or bathroom. Please keep in mind that your countertops are 1-1/4″ thick when ordering your faucet(s).
Another important point is that all cabinetry should be in their proper place.  They should be scrubbed and be found to be completed leveled and clean. If the cabinets are over the countertop, they will need to have reinforced support to insure the safety. Another important point is that all cabinets that are not permanent should be removed before we arrive to complete the template. We will also need proper lighting to be able to see the measurements correctly.
It is imperative you insure that there is sufficient space under the sink for an under the sink mount to fit within the cabinetry.
When removing your prior countertop slab, use careful attention to insure the old countertop including the foundation wood is removed.  The cabinet area must be scrubbed and not have any residue of any adhesive ingredient and be strong enough to support the granite. It is also important to ensure proper fitting you need to remove the facet, basin and cooking tops.